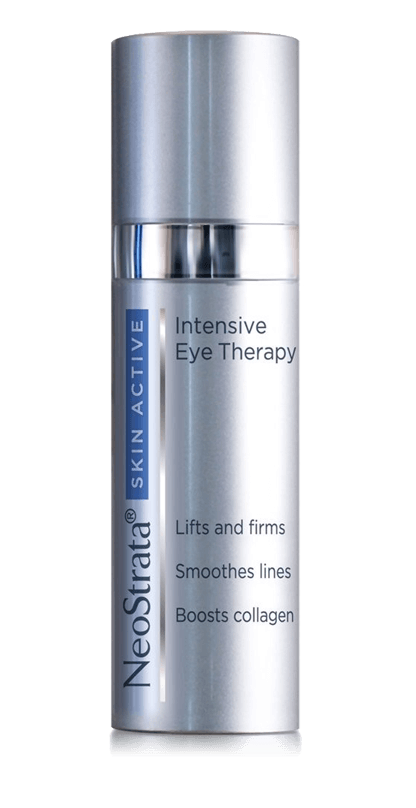 NeoStrata® Skin Active Intensive Eye Therapy
SKU 00117
Product Details
NeoStrata® Skin Active Intensive Eye Therapy
Skin Active
Mature Ageing Skin
NeoStrata® Skin Active Intensive Eye Therapy is a deeply hydrating eye cream in the Skin Active range. This advanced, comprehensive anti-ageing range is formulated to prevent and correct all visible signs of ageing, helping to maintain optimum skin health. This eye cream targets puffiness and crow's feet, helping to smooth fine lines and wrinkles around the delicate eye area. The product is not recommended for sensitive or rosacea-prone skin and it may not be used if you are pregnant, planning a pregnancy or lactating. Recommended for mature, sun-damaged skin but also for those with early signs of ageing in the eye area – please note it is a rich formulation.
Key ingredients include an advanced SynerG Formula 6.0 which includes clinically proven technologies, each with a unique action to repair, strengthen and plump the skin in the eye area: Apple Stem Cell Extract protects and maintains the skin's youthful characteristics, helping to maintain the longevity of your own stem cells. Peptides help to increase collagen production in the skin. NeoGlucosamine® targets a key enzyme in melanin formation reducing the appearance of uneven pigmentation. Caffeine helps to reduce puffiness under the eye, while Hyaluronic Acid, part of the skin's natural support system, enhances hydration and improves plumpness and firmness. Tocopheryl Acetate (Vitamin E) provides antioxidant benefits. The result is noticeably younger-looking eyes. Ophthalmologist tested. Not tested on animals.
Strength: Syner G 6.0
Product Size: 15g
SPF: N/A
Application Area: Below eye area
Paraben Free: Yes
Use: PM/AM
How to use:
Gently apply the cream around the eye area after cleansing in the morning and evening.
After application, apply other products in your skincare regimen: serum, moisturiser and sunscreen (morning).
First time users should always introduce this product slowly to build up usage according to skin tolerance.
This product does not contain a sunscreen. It is especially important to always apply a sunscreen in the morning when using active ingredient products.
Save this product for later