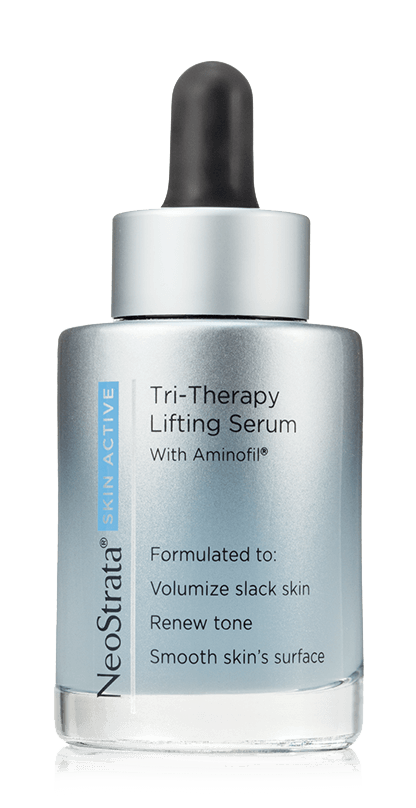 NeoStrata® Skin Active Tri-Therapy Lifting Serum
SKU 00116
Product Details
NeoStrata® Skin Active Tri-Therapy Lifting Serum
Potent Anti-Ageing Serum
Volumize, Smooth, Renew
NeoStrata® Skin Active Tri-Therapy Lifting Serum is a silky serum formulated with a proprietary triple anti-ageing complex to help volumize sagging skin, renew skin tone and smooth rough texture while improving overall signs of photo-damage. For the best results, it should be used in combination with other products in the Skin Active range. Not suitable for sensitive or rosacea skins. Recommended for early and more mature signs of skin ageing.
Key ingredients include Aminofil®, which is a breakthrough, patented skin volumizing agent that helps to reinforce the skin's matrix and targets the skin's own hyaluronic acid levels, to volumize, firm and plump. Gluconolactone, a Poly Hydroxy Acid (PHA) is a chelator that helps to reduce oxidative damage and gently increases cell turnover to give the skin a more even skin tone and a renewed radiance. Low Molecular Weight(LMW) Hyaluronic Acid penetrates the skin's surface to attract moisture, provide hydration and visibly improve the skin's texture, making it more smooth in appearance. It is a light silky formulation that is fast-absorbing and leaves the skin with a velvety texture. Alcohol-free. Oil-free. Paraben-free. Periwinkle (lavender colour). It has a light citrus floral scent but not a fragrance. Non-irritating. Non-sensitising. Not tested on animals.
Strength:
Aminofil® 1.25% | Gluconolactone 8% | LMW Hyaluronic Acid 0.5%
Product Size: 30ml
SPF: N/A
Application Area: Face
Paraben Free: Yes
How to use:
After cleansing with a cleanser formulated for your skin type, in the morning and evening, apply 3-5 drops of the NeoStrata Skin Active Tri-Therapy Lifting Serum.
Allow to absorb before applying your Skin Active Matrix Support SPF30 in the morning and the Skin Active Cellular Restoration or Skin Active Dermal Replenishment.
Introduce this product slowly and according to your own skin's tolerance - this is an important step using a new product with active ingredients for the first time. If any irritation occurs, stop using until your skin settles & re-introduce slowly, using as frequently as your skin allows.
Use a good quality, high factor, broad-spectrum sunscreen daily is very important.
Save this product for later