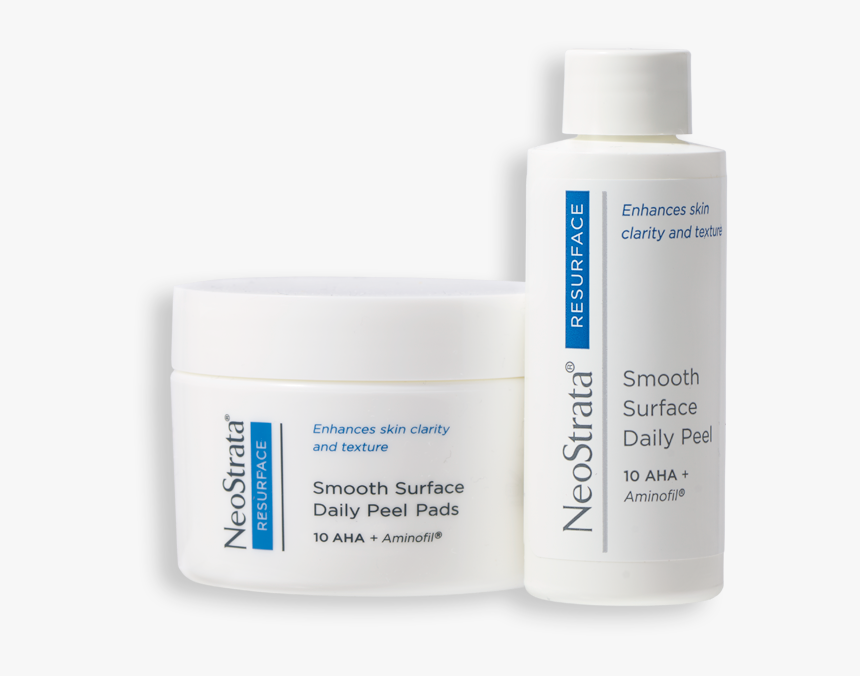 NeoStrata® Smooth Surface Daily Peel Pads
SKU 00115
Product Details
NeoStrata® Smooth Surface Daily Peel Pads
Resurface
Early & Mature Ageing Skin
NeoStrata® Smooth Surface Daily Peel Pads are home-use peel pads that help to refine skin texture, improve skin tone and clarity, while visibly reducing the appearance of fine lines and wrinkles. Suitable for all skin types except those with sensitive, rosacea-prone or atopic skins.
If you are pregnant or lactating please take advice from your physician as to whether you can use this product.
Key ingredients include 10% Glycolic Acid which increases cell turnover to clarify pores, refine texture and improve skin tone. Aminofil®, 0.5% is a patented amino acid derivative that helps to increase collagen and hyaluronic acid to plump, firm and reduce the appearance of lines and wrinkles. Arginine, an amphoteric amino acid that helps to adjust the formulation pH and increase product gentleness, reducing sensory irritation. Paraben-free. Fragrance-free. Non-comedogenic. Oil-free. It contains 5% alcohol.
Strength:
10% Glycolic Acid | 0.5% Aminofil®
Product Size: 36 Pads + 60ml Solution
SPF: None
Application Area: Face, Neck
Paraben Free: Yes
Use: PM
How to use:
Pour the entire bottle of the solution onto the jar of pads
Wipe pad over cleansed face every evening, avoiding lips and eyes
Gently massage in any remaining fluid
Does not require neutralization
This product contains a high percentage of Glycolic Acid, ensure you wear a high-factor broad spectrum sunscreen when heading outdoors after using this product.
Save this product for later